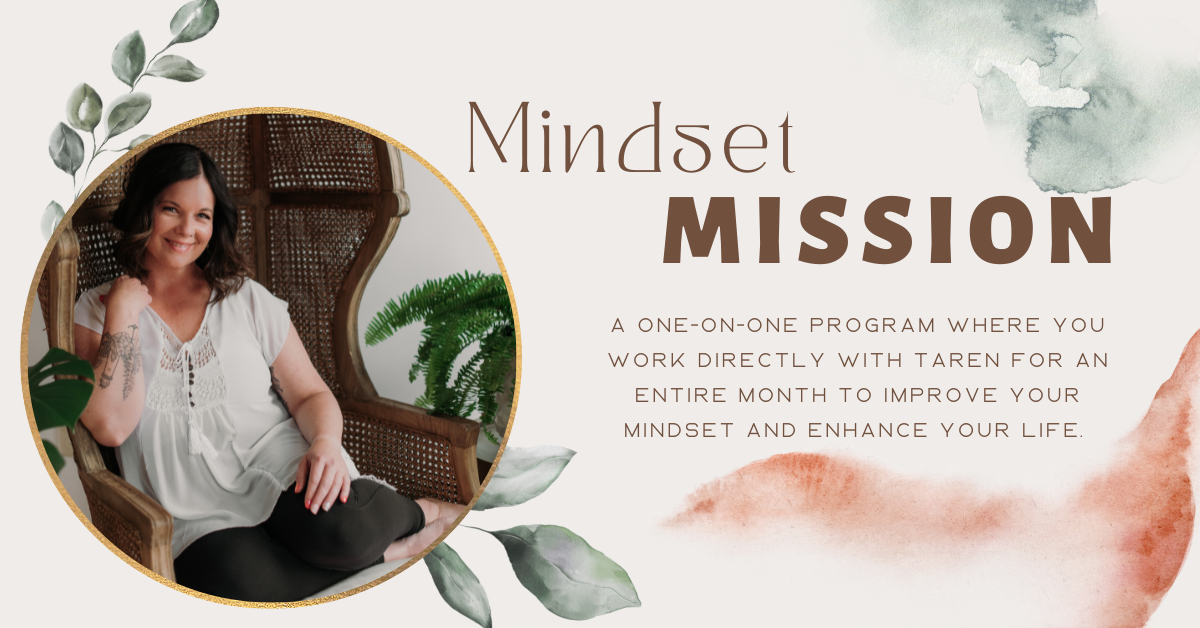 Welcome to your MINDSET MISSION!
This is a month long one-on-one coaching program with me🥰, Taren Sbardella. This course is intended to assist you in creating new mindset patterns for yourself and growing past any limiting belief systems you may have in place in your life. If you are feeling stuck, stagnant, unsure, overwhelmed, uninspired, exhausted, confused, this program will guide you in redirecting those feelings to ones that better serve your life!
Included in this program are the following: 
2 hour long Reiki sessions (virtual or in-studio)
2 hour long Mindset Coaching sessions (virtual or in-studio)
Weekly Checkpoint via text message, phone call or email to establish action steps for each week and discuss progress and shifting points.
Upon registering for this program, I will contact you to set up your sessions for the entire month. This allows you to plan your program in a way that fits your life and schedule, which will help you be accountable to reaching your personal goals. The sessions and check-ins were put together in this way to really guide your mindset progress in a fulfilling manner. The Reiki sessions will serve as a healing modality as you do this mindset shifting work. These sessions will offer insight, clearing, positivity, validation and inspiration to keep you motivated. The Mindset Coaching sessions can feel a bit like a therapy session, where you are able to really unwrap all of the challenges you are facing in order to rebuild your mindset about your life in a new way. The weekly check points will serve as a time to CELEBRATE what is going WELL. This time will be used to really focus on what is working or what can be shifted to help you better align with your highest and best energy. They are also a way to maintain accountability to doing the action steps we decide on together for you to focus on.
The best part about this program is that it is truly dictated by YOU! We narrow in on what is going well in your life, and give you the confidence and space to create more of that! We will work on releasing old habits, patterns and feelings that are no longer serving you. We will embrace learning about your energy, your thought process and your self belief.
At the end of our 4 weeks together, the goal is to be FREE to enhance your mind and your life whenever and however you choose! We will accomplish the mission of no longer feeling like you are a prisoner of your mind!
I look forward to working with you in this capacity. I am humbled to be a part of your mindset shifting journey!
***For those interested in this program but would like 30 MINUTE SESSIONS, you can enroll in a MINI MINDSET MISSION for $200 {simply use the drop down payment option below and that will give you everything stated above with sessions all lasting 30 minutes instead of 60}***
Much Love, Taren